Building an eCommerce website can seem like a daunting task, but with the right tools and guidance, it can be done successfully. Here are the basic steps you can follow to build your own eCommerce website: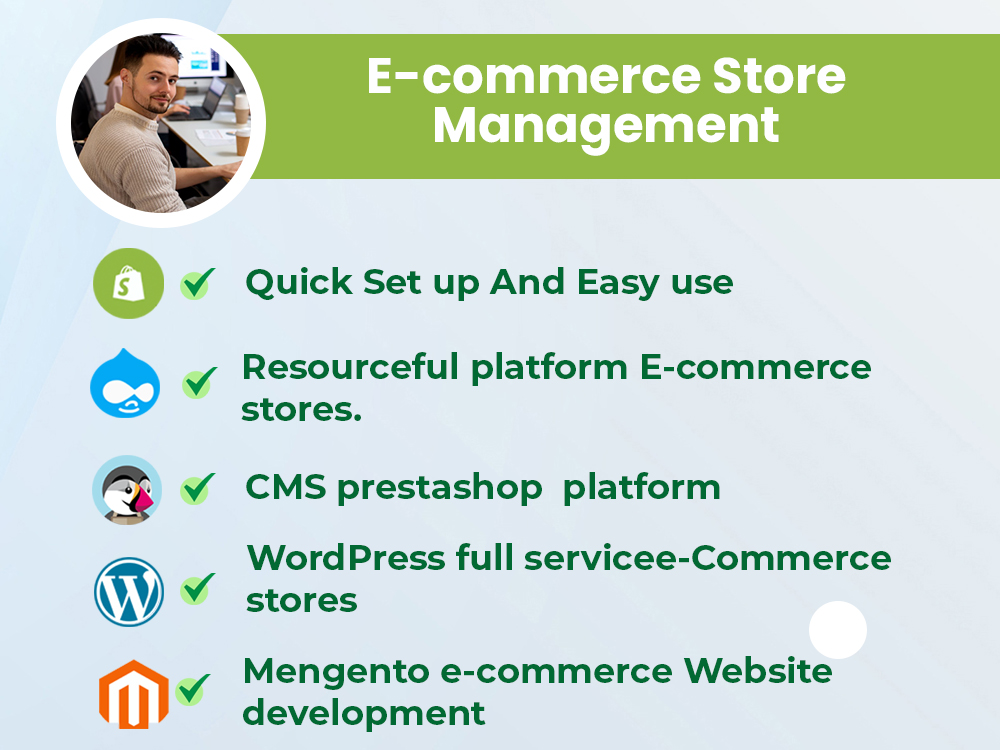 Basic steps you can follow to build your own eCommerce website:
Choose a website builder: There are many website builders available, both free and paid. Some popular ones for eCommerce are Shopify, WooCommerce, and Magento. Consider the features, pricing, and ease of use of each platform to decide which one works best for you.

Register a domain name: A domain name is your website address, and it's important to choose one that's easy to remember and relevant to your brand. You can register a domain name through a domain registrar like GoDaddy or Namecheap.

Choose a hosting provider: Your eCommerce website needs to be hosted on a server so it can be accessible on the internet. Many website builders have hosting built-in, but you can also choose a separate hosting provider like Bluehost or SiteGround.

Design your website: Your eCommerce website should be visually appealing, easy to navigate, and showcase your products effectively. Most website builders have templates you can use or customize to fit your brand.

Add products: Depending on the website builder you choose, you'll have different options for adding products. You'll want to include product descriptions, images, prices, and any other relevant information.

Set up payment and shipping options: You need to have a way for customers to pay for their purchases and have their orders shipped to them. Most website builders have integrations with payment and shipping providers, like PayPal and UPS.

Test and launch your website: Before you launch your eCommerce website, make sure to test it thoroughly for any bugs or issues. Once you're confident everything is working correctly, you can launch your website and start selling your products.
Building an eCommerce website can take time and effort, but with the right tools and strategies, you can create a successful online store that reaches customers around the world.
Keep focused on your business-to-business customers or you could lose them.
As the shift towards digital commerce continues, B2B companies must adapt to meet the expectations of their buyers. While B2B customers were once willing to put up with clunky, outdated websites, they now expect a seamless and intuitive online buying experience.
Ignoring the needs of your B2B buyers could lead to losing them to competitors who are more responsive to their demands. This means listening to feedback, understanding pain points, and making improvements to your eCommerce platform to enhance the customer experience.
Some common pain points for B2B buyers include difficulty finding products, lack of detailed product information, confusing navigation, and inefficient purchasing processes. By addressing these issues, B2B companies can build stronger relationships with their buyers and increase sales.
Investing in the right eCommerce platform and tools can also help B2B companies stay competitive. Features like personalized product recommendations, easy reordering, and streamlined checkout processes can all contribute to a better customer experience and increased sales.
In short, B2B companies must prioritize the needs of their buyers in order to succeed in the digital commerce landscape. By actively listening to feedback and making necessary improvements, they can build stronger relationships with customers and stay ahead of the competition.
Help your customers find the right product
As an e-commerce business, it is essential to help your customers find the right product. Here are some tips:
Use Product Filters: Customers often have specific requirements when they are looking for a product. By adding product filters, you make it easy for them to find what they are looking for quickly. Filters can be based on price, color, size, material, and other relevant factors.

Provide Detailed Product Information: Providing detailed information about your products can help your customers make informed buying decisions. Ensure that you include descriptions, images, and specifications of the products you sell.

Use Search Functionality: Make it easy for your customers to search for products on your website. A robust search function allows customers to search for products by keyword, SKU, or other relevant information.

Offer Product Comparisons: Product comparisons allow customers to compare the features and prices of different products. This helps them make informed decisions and choose the product that best meets their needs.

Use Customer Reviews: Customer reviews provide valuable feedback and can help potential buyers make informed decisions. Make sure to include customer reviews on your product pages.
By implementing these tips, you can improve the customer experience on your e-commerce website and help your customers find the right product.